Safety Relief Valve Model 3-51
The Models 3-5111 & 3-5161 are standard right angle rapid opening/reclosing Safety (Thermal) Relief Valves. The 3-5111 is a conventional design, and the 3-5161 is a balanced (bellows) design. There are nine different configurations of the 3-5111 and 3-5161 combined, used with both liquids and gasses. This is a full nozzle, direct action, spring loaded, adjustable ring, Safety Relief Valve. They are available in both flanged and threaded connections. Special orders may be placed for socket and butt welded versions. Available end connections are NPT threads, and flange ratings are 150# - 300# inlet, and 150# - 2500# outlet, in sizes of ½" X ¾" to 1" X 1". with DN 20 X 32 to DN 150 X 250 sizes, and PN-10 to PN-250 ratings. Accessories are available, including a test gag, plain levers, o-rings, and heating jackets. The valves are available in carbon steel, stainless steel, and special alloys.
Design:

EN ISO 4126-1 | ASME VIII | API-526 | ASME B16.34

Sizes:

from½" x ¾" up to 1" x 1"

Thread connections:

NPTF-ANSI B1.20.3; BSP-BS 21

Flanges rating:

Inlet 150 ÷ 1500#

Outlet 150 ÷ 300#, ASME 16,5

Supplied with DIN flanges under request

Materials:

Carbon steel, stainless steel, and special alloys (A352 LCB, A351 CF10MC etc.)

Available models:

64LC, 64GC, 64GF, 64LF.
Further Information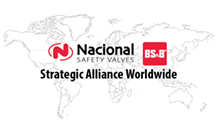 BS&B Safety Systems
7455 East 46th Street
Tulsa, OK 74145-6379
Phone: (918) 622-5950
Fax: (918) 665-3904
Toll Free: 1-800-BSB-DISK
E-mail: [email protected]
| | | | |
| --- | --- | --- | --- |
| | | | |
| Safety Relief Valve 3-5111 Flange 3 | Safety Relief Valve 3-5111 Flange 6 | Safety Relief Valve 3-5111 Flange | Safety Relief Valve 3-5111 Flange |
| | | | |
| | | | |
| Safety Relief Valve 3-5111 Flange | Safety Relief Valve 3-5111 Thread | Safety Relief Valve 3-5111 Thread 4 | Safety Relief Valve 3-5111 Thread 2 |
| | | | |
| | | | |
| Safety Relief Valve 3-5111 Flange | Safety Relief Valve 3-5111 Thread 3 | Safety Relief Valve 3-5111 Thread 5 | Safety Relief Valve 3-5161 BW |
Print